SALTA - TOURS 3 NIGTH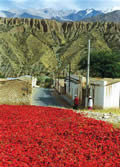 Salta city is located at 1.187 metres above sea level. It is connected with the rest of the country through different National Roads: N° 9 and N° 34 to the South; N° 81 and N° 16 to the East, N° 40 to the South West; N° 9 and N°34 to the North up to the border with Bolivia; and N° 51 to the West up to the Chilean border, and also through the International Airport "El Aybal" with direct flies within the country and to the Bolivian cities of Santa Cruz de la Sierra and La Paz.

Its provincial hospitality along with its rich cultural inheritance, find expression in its folk music and moving religious celebrations.
Departures: Daily

Itinerary day by day:
DAY 1 - SALTA
Arrival to Salta Airport and transfer to hotel. 03 nts of accommodation with breakfast
DAY 2 - SALTA
Excursion to visit Humahuaca Canyon (Unesco World Heritage)
DAY 3 - SALTA
After breakfast, excursion to visit Cafayate.
DAY 4 - SALTA
Transfer to airport



SALTA and TRAIN TO THE CLOUDS - TOUR 3 NIGHTS

Departures: Daily

Itinerary day by day:
DAY 1 - SALTA
Arrival to Salta Airport and transfer to hotel. 03 nts of accommodation with breakfast
DAY 2 - SALTA
Excursion to visit Humahuaca Canyon (Unesco World Heritage)
DAY 3 - SALTA
Excursion to enjoy the incredible Train to the Clouds (check departures and seasons)
DAY 4 - SALTA
Transfer to airport